Little Planet Foundation has partly given funds for buying Projection screen & projector to Daniel Marcus Macwan who is running the "Tamenglong Animal's Home" at Tamenglong in Manipur. This will help students of the entire Tamenglong district, as this organization goes from school to school to create awareness among students.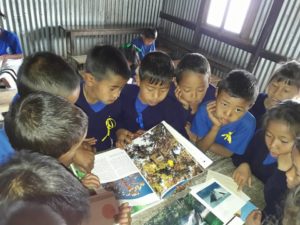 Tamenglong Animal's Home is a non profit charitable trust based in Tamenglong. Tamenglong (24°59′26.39′′N93°30′3.26′′E) is one of the nine districts of Manipur state spread over an area of 4,391 sq km. Tamenglong town (district headquarters) is located 147 km from Imphal is situated at an altitude of 1,061 mt with a population of around 19,363 (as per 2011 census). Most of the people inhabiting Tamenglong town and its nearby villages belong to Naga tribes. The entire landscape of Tamenglong is hilly with dense wet evergreen forests with extraordinary varieties of orchids, ferns, bamboo and other vegetation. This type of landscape has the potential to harbour several threatened species of animals such as Hoolock Gibbon, Serow, Chinese pangolins,and Clouded leopards among others.
Unfortunately Tamenglong and its surrounding villages are a hub for illegal wildlife trade. One can often see endangered species tied up and put up for sale in the marketplace. This organization rescues as many animals and birds as they possibly can but the challenges in Tamenglong ask for a different approach for wildlife conservation. 'Tamenglong Animals Home' goes from village to village talking about the importance of conservation of the ever decreasing wildlife and forest cover.